I had a wonderful Valentine's Day with Geri! If I don't remember wrongly, this is the first Valentine's I've spent with Geri in 2 or 3 years. Also, it's the first time we spent proper couple time together in a long, long time =). Geri baked me cookies =P!
Also, I realized trying to make a heart using candles is a very tiring job, especially when you try to do it by the beach. Nonetheless, the final result was beautiful, even more so when I'm with Geri =).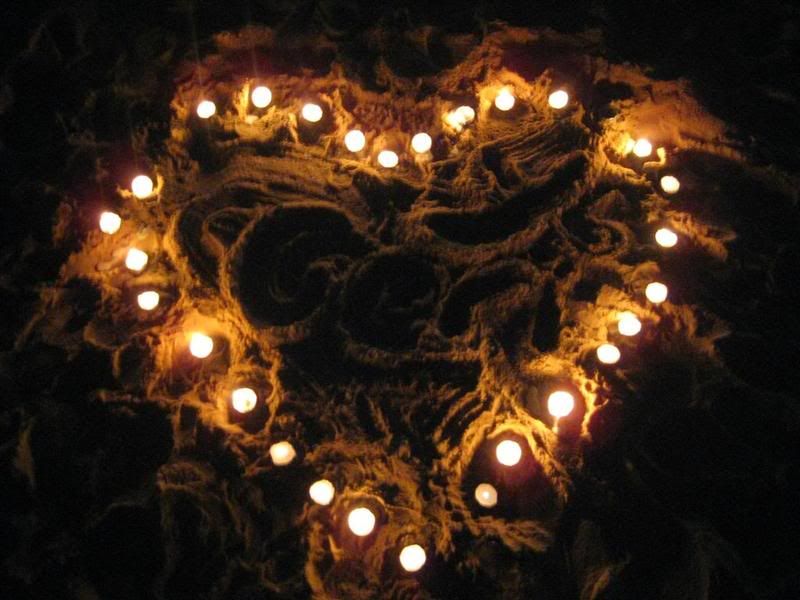 Also, I was at the Esplanade on Friday with Geri, and happened to catch the "On The Waterfront" performance from 8.45PM till 9.30PM or so. The band was amazing, singing songs like "Sweet Child Of Mine", "Stairway To Heaven", among many others. However, the one performance that really got me was their rendition of Heart's Alone. As such, I've found the following videos below for your viewing pleasure. I've previous posted some videos of Zoo performing Bryan Adams' Heaven, and they're truly amazing. The bad news? We didn't manage to get the name of the band, and Esplanade's website isn't exactly the most informative. If anyone knows the name of the band, please let me know by tagging, by email, anything at all!
Heart – Alone (Live 1990)
Arnel Pineda – Alone (Zoo Band)
Heart – Alone (ZOO)
Charice And Arnel Pineda – Alone